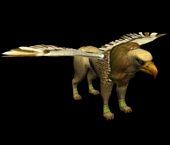 Combat: 10
Hits: 140
Speed: 14
Damage: 30 Slashing
Armor: 10
Resistance: 10
Resistant vs: None
Vulnerable vs: None
View: 15
Attack Type: Both Ground and Air units
Size: Large
Alignment: Neutral
Race: Monster
Ability:
-Flying
Griffons are advanced fliers. The Griffon is a pretty straight forward unit, possessing above average stats and no special abilities. Being able to fly and attack both air and grounded units allows them to reliably help out the rest of the army regardless of where they're fighting or what they're up against.
Ad blocker interference detected!
Wikia is a free-to-use site that makes money from advertising. We have a modified experience for viewers using ad blockers

Wikia is not accessible if you've made further modifications. Remove the custom ad blocker rule(s) and the page will load as expected.